Презентация - Funny English
2,195
просмотров
Текст этой презентации
Слайд 1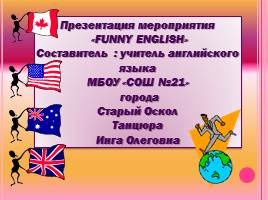 Презентация мероприятия «FUNNY ENGLISH» Составитель : учитель английского языка МБОУ «СОШ №21» города Старый Оскол Танцюра Инга Олеговна

Слайд 2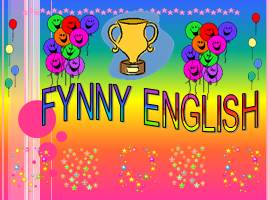 FYNNY ENGLISH

Слайд 3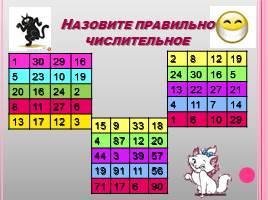 Назовите правильно числительное
1 30 29 16
5 23 10 19
20 16 24 2
8 11 27 6
13 17 12 3
2 8 12 19
24 30 16 5
13 22 27 21
4 11 7 14
1 6 10 29
15 9 33 18
4 87 12 20
44 3 39 57
19 91 11 56
71 17 6 90

Слайд 4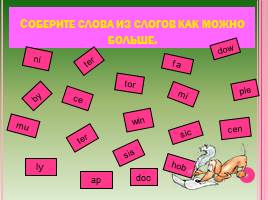 Соберите слова из слогов как можно больше.
by
doc
ni
ter
ce
tor
ter
sis
dow
fa
sic
mi
ple
win
cen
hob
ap
ly
mu

Слайд 5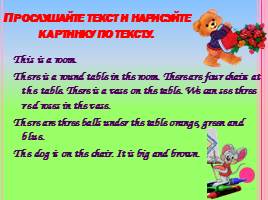 Прослушайте текст и нарисуйте картинку по тексту.
This is a room. There is a round table in the room. There are four chairs at the table. There is a vase on the table. We can see three red roses in the vase. There are three balls under the table orange, green and blue. The dog is on the chair. It is big and brown.

Слайд 6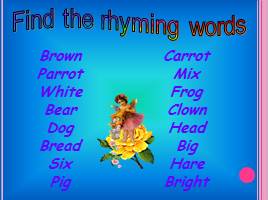 Find the rhyming words
Brown Parrot White Bear Dog Bread Six Pig
Carrot Mix Frog Clown Head Big Hare Bright

Слайд 7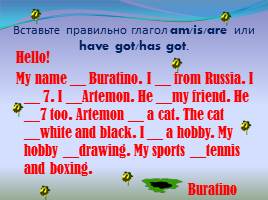 Вставьте правильно глагол am/is/are или have got/has got.
Hello! My name __ Buratino. I __ from Russia. I __ 7. I __Artemon. He __my friend. He __7 too. Artemon __ a cat. The cat __white and black. I __ a hobby. My hobby __drawing. My sports __tennis and boxing. Buratino

Слайд 8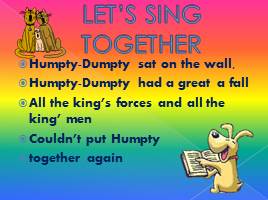 LET'S SING TOGETHER
Humpty-Dumpty sat on the wall, Humpty-Dumpty had a great a fall All the king's forces and all the king' men Couldn't put Humpty together again

Слайд 9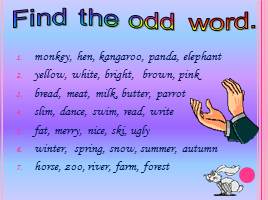 monkey, hen, kangaroo, panda, elephant yellow, white, bright, brown, pink bread, meat, milk, butter, parrot slim, dance, swim, read, write fat, merry, nice, ski, ugly winter, spring, snow, summer, autumn horse, zoo, river, farm, forest
Find the odd word.

Слайд 10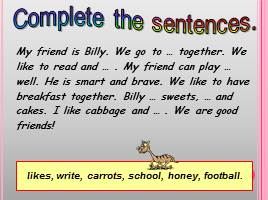 My friend is Billy. We go to … together. We like to read and … . My friend can play … well. He is smart and brave. We like to have breakfast together. Billy … sweets, … and cakes. I like cabbage and … . We are good friends!
Complete the sentences.
likes, write, carrots, school, honey, football.

Слайд 11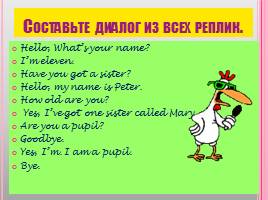 Составьте диалог из всех реплик.
Hello, What's your name? I'm eleven. Have you got a sister? Hello, my name is Peter. How old are you? Yes, I've got one sister called Mary. Are you a pupil? Goodbye. Yes, I'm. I am a pupil. Bye.

Слайд 12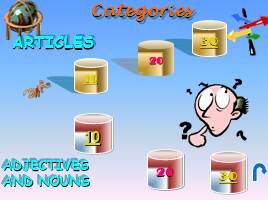 Categories
ARTICLES
ADJECTIVES AND NOUNS
10
30
10
20
30
20

Слайд 13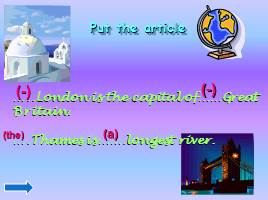 Put the article
…..London is the capital of……Great Britain. ….Thames is…….longest river.
(-)
(-)
(the)
(a)

Слайд 14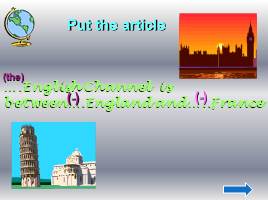 Put the article
….English Channel is between….England and…..France
(the)
(-)
(-)

Слайд 15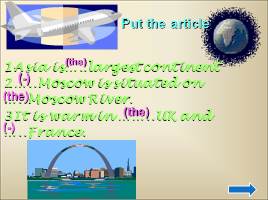 Put the article
1Asia is…..largest continent 2…..Moscow is situated on …..Moscow River. 3It is warm in ……..UK and …..France.
(the)
(-)
(the)
(the)
(-)

Слайд 16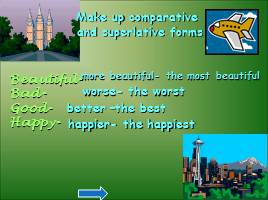 Make up comparative and superlative forms
Beautiful- Bad- Good- Happy-
more beautiful- the most beautiful
worse- the worst
better –the best
happier- the happiest

Слайд 17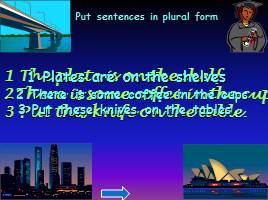 Put sentences in plural form
1 The plate is on the shelf 2There is some coffee in the cup. 3 Put this knife on the table.
1 Plates are on the shelves
2 There is some coffee in the cups
3 Put these knives on the tables

Слайд 18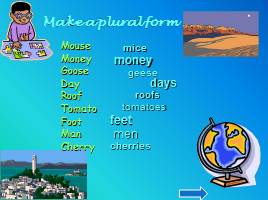 Make a plural form
Mouse Money Goose Day Roof Tomato Foot Man Cherry
mice
money
geese
days
tomatoes
feet
men
cherries
roofs

Слайд 19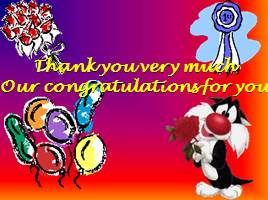 Thank you very much Our congratulations for you

Поделиться ссылкой на презентацию через:
Код для вставки видеоплеера презентации на свой сайт: