Презентация - Моя будущая профессия - логист
6,357
просмотров
Текст этой презентации
Слайд 1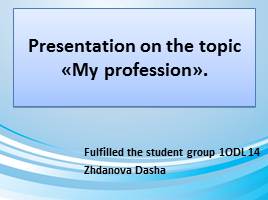 Presentation on the topic «My profession».
Fulfilled the student group 1ODL 14 Zhdanova Dasha

Слайд 2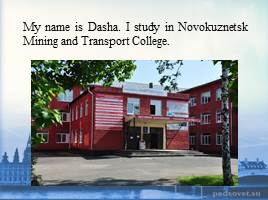 My name is Dasha. I study in Novokuznetsk Mining and Transport College.

Слайд 3
My specialty is Operation in Logistics.

Слайд 4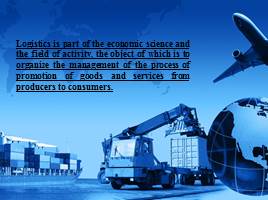 Logistics is part of the economic science and the field of activity, the object of which is to organize the management of the process of promotion of goods and services from producers to consumers.

Слайд 5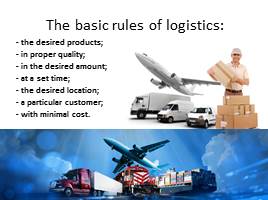 The basic rules of logistics:
- the desired products; - in proper quality; - in the desired amount; - at a set time; - the desired location; - a particular customer; - with minimal cost.

Слайд 6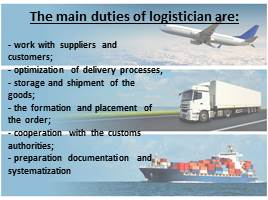 The main duties of logistician are:
- work with suppliers and customers; - optimization of delivery processes, - storage and shipment of the goods; - the formation and placement of the order; - cooperation with the customs authorities; - preparation documentation and systematization

Слайд 7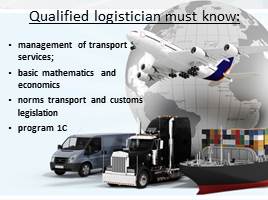 Qualified logistician must know:
management of transport services; basic mathematics and economics norms transport and customs legislation program 1C

Слайд 8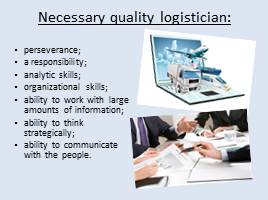 Necessary quality logistician:
perseverance; a responsibility; analytic skills; organizational skills; ability to work with large amounts of information; ability to think strategically; ability to communicate with the people.

Слайд 9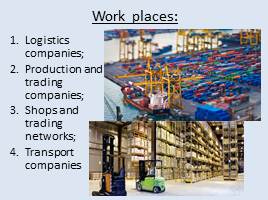 Work places:
Logistics companies; Production and trading companies; Shops and trading networks; Transport companies

Слайд 10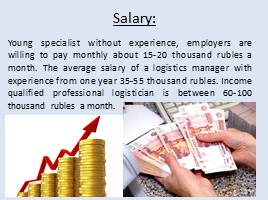 Salary:
Young specialist without experience, employers are willing to pay monthly about 15-20 thousand rubles a month. The average salary of a logistics manager with experience from one year 35-55 thousand rubles. Income qualified professional logistician is between 60-100 thousand rubles a month.

Слайд 11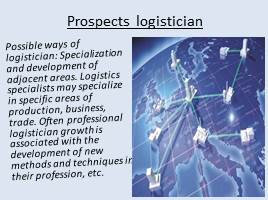 Prospects logistician
Possible ways of logistician: Specialization and development of adjacent areas. Logistics specialists may specialize in specific areas of production, business, trade. Often professional logistician growth is associated with the development of new methods and techniques in their profession, etc.

Слайд 12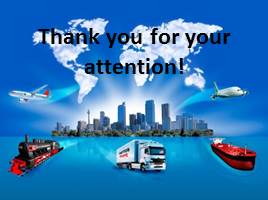 Thank you for your attention!

Поделиться ссылкой на презентацию через:
Код для вставки видеоплеера презентации на свой сайт: